Carson Jones Daly is a famous TV host, radio personality and producer from America. Jones is best known as the host of the MTV's "Total Request Live". He is involved with the Singing competition named "The Voice", as the host. In addition to that he is also hosting his own late night show named 'Last Call with Carson Daly'. He is a popular face on NBC as he has hosted many shows for the channel. He also joined the channel'ss hit show 'Today' as the social media correspondent in 2013.
Early life and background
He was born on June 22nd, 1973, in Santa Monica California to the J.D Daly and the famous TV personality Pattie Daly, who is best known for her large contribution to the Coachella Valley TV.
Carson spent most of the time of his childhood days roaming inside the production houses and movie sets. The quality time spent inside the industry lead him to grow a natural interest towards media.
Sponsored link
Daly received his high school education from a local school named Santa Monica High School. During his high school days, he was highly fascinated with several extracurricular activities such as acting, drama and golf games. In 1991, after earning his graduation from the high school, Daly attended Loyola Marymount University to earn his bachelor's in theology. But he dropped his graduation to follow his dreams of being a professional golf player.
However, he failed to pursue a career as a golfer as he left the idea and ended up working with the television.
Career highlights
Daly started working with the media as a radio intern at the age of 18. He began his broadcasting career with KOME radio station. Meanwhile, KRQQ, the sister concern of the KOME station hired Carson as a DJ. Soon he got comfortable with his job responsibilities and he started performing very well. MTV network got very impressed with the contributions of Carson and offered him the position of the host of the 'Total Request Live'. Carson accepted the offer and moved to New York to serve for the channel. After joining MTV, there was no looking back for him as 'Total Request Live' turned out to be a massive hit right after his contribution.
The talented host began to be associated with the 'Orange Room' affiliated by the 'Today show', "The Voice", the 'New Year's Eve show' of NBC and 'Last call with Carson Daly'.
Carson's name is also worth mentioning when it comes to the acting industry. Carson added a lot to this industry by playing a small but renowned character in the first episode of 'My Name Is Earl'. He is also remarkable for playing a role in the 'Chappelle's Show'.
Sponsored link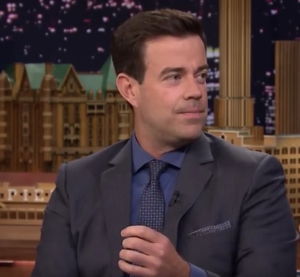 Carson Daly – Wife and Children
This handsome TV anchor has numerous records of affairs and relationships. His first girlfriend was Jennifer Love Hewitt who is a renowned actress. Carson and Jennifer were unable to continue their relationship due to some unknown reason. Later, he started dating Ashlee Simpson but their chemistry did not last too.
Daly got engaged with Tara Ried but in 2011 the couple got separated.
After six years in 2007, the 1.88 meter tall Carson found his true love in Siri Pinter, daughter of TV actor Mark Pinter. The couple is blessed with two daughters London Rose Daly and Etta Jones Daly and a son Jackson James Daly. The couple got married in 2015.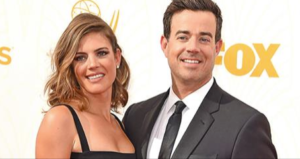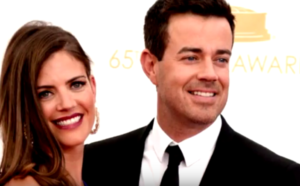 Carson Daly – Salary and Net Worth
It is reported that Carson has an estimated net worth of $25 million with an annual salary of $5 million.
Sponsored link