Brian Stelter is an American television news personality and author who currently serves at the CNN News Network in the capacity of a senior media correspondent. He also hosts the show 'Reliable Sources'. He also held positions at The New York Times where he served as a media reporter and came into prominence for his blog TVNewser, of which he was the owner and editor.
Stelter has gained recognition for his work within a short period of time in his career and has been featured in the "30 under 30" list by Forbes magazine for three consecutive years. He was also featured in the documentary titled "Page One: Inside The New York Times" that was released in 2011 and is the author of the book 'Top of the Morning: Inside the Cutthroat World of Morning TV', a 2013 New York Best-seller.
Early Life and Education
Born on 3 September 1985 to American parents in the city of Damascus, Maryland, USA, Stelter was raised in the same city. Stelter was raised as a Methodist by his parents and is of White Ethnicity.
Sponsored link
He received his high school education from the Public high School, Damascus High School, and graduated in 2003. He later enrolled into Townson University in Baltimore County, Maryland in order to earn a degree in Mass Communication. Stelter graduated with a Bachelor of Arts Degree in Mass Communication in the year 2007. While at the university, worked for Towerlight, a bi-weekly independent student newspaper at the university, serving as the editor-in-chief.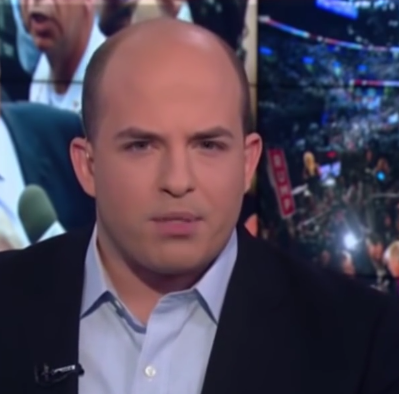 Career Rise
Within a short period of time, Stelter received a lot of applause for his work. He started a blog named TVNewser in January 2004 while he was a freshman in college. Such was its popularity that the blog was bought by Mediabistro.com, within just six months, in July 2004. Within two months of graduating University, Stelter received an offer from The New York Times in July 2007, where he served in the capacity of a media reporter for television and digital media, where he was tasked with reporting stories for the Business and Arts section of the newspaper. He served at the Network until 2013.
Sponsored link
Stelter joined the CNN Network in November 2013 where he was named the host of the Sunday morning talk show 'Reliable Sources'; a show that examines the top media stories of the week. He was named a senior media correspondent and reports on trending stories from news to entertainment, personalities, as well as companies. Stelter makes regular appearances on CNN for their U.S. and International networks, and also on CNN.com, CNNMoney.com as well as the network's mobile and social landscape. Besides his work at CNN, Stelter also makes regular appearances on television and radio where he speaks about media issues. He also serves as a moderator on panels at conferences and regularly speaks on college campuses.
Wife

Stelter started dating traffic anchor for the New York Television Station NY1, Jamie Shupak and married her on 22 April 2014. Together, the couple have one child, a daughter named Sunny Ray Stelter, born in May 2017.
Although he was raised a Methodist, Stelter claims to be non-religious as of today. The couple plan to raise their children into the Jewish faith.
Brian Stelter – Salary and Net Worth
Brian Stelter has an estimated salary of $1 million; his approximated net worth of approximately $10 Million.
Sponsored link