Brad Pitt is one of the most popular celebrities in Hollywood, known for movies like Fight Club and Troy. As a producer, he has made some of the best path-breaking movies that went on to win Academy Awards. He is also singled out as one of the most good looking men  in the world.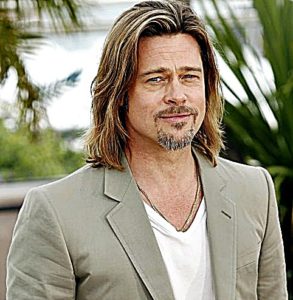 Early life
William Bradley Pitt was born in Shawnee, Oklahoma on December 18, 1963.  His father Alvin Pitt was the owner of a truck company, while his mother Jane Etta is a counsellor.  The actor has a younger brother Douglas and a younger sister, Julie.
Sponsored link
Pitt and his family moved to Springfield, Missouri, where he enrolled in Kickapoo High School. Later when he joined college and studied journalism, he was fascinated by advertising and more so, by movies. With his mind decided on a career in movies, he was aware that he had to move to Los Angeles, instead of languishing in Missouri.  Once he was in Los Angeles, Pitt took an acting course and did odd jobs to supplement his income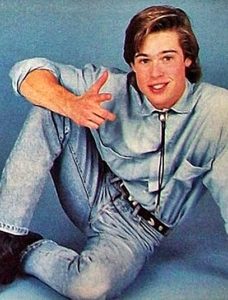 Brad Pitt Childhood Pictures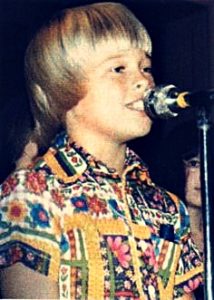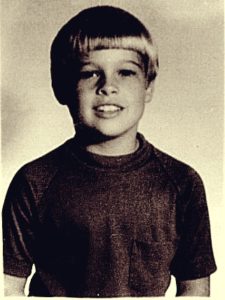 Brad Pitt – Best Films
He started off acting in the year 1987 with movies like Less Than Zero, No Way Out and No Man's Land. He also debuted in a TV show called 'Another World', where he was cast in two episodes.  In 1988, he bagged his first lead role as the actor in 'The Dark Side of the Sun', a US-Yugoslavian production, which did not take off till 1997.
Pitt who was keeping on doing supporting roles in the latter part of 80s, finally found his calling in the movie  'Thelma & Louse' (1991).  The success of the movie led to other hits which included A River Runs Through It (1992), Legends of the Fall (1994), Interview with the Vampire (1994), Seven (1995), 12 Monkeys (1995), Fight Club (1999), 'Ocean's 11' (2001). Troy (2004),   Ocean's Twelve (2004), Mr & Mrs. Smith (2005), Oceans' Thirteen (2007) and World War Z (2013). The 1.80 meter tall actor's name is taken in the same breath as Tom Cruise, for being one of the best looking men in Hollywood.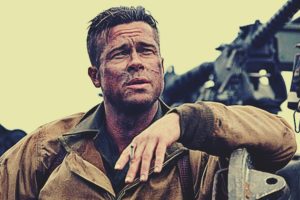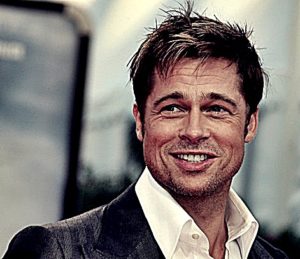 Brad Pitt – Awards
He has received Academy Awards nominations thrice, which included movies like 12 Monkeys (1995),  The Curious Case of Benjamin Button (2008) and Moneyball  (2011)
As a producer, Pitt showed his penchant for movies with off-beat themes; The Departed (2006) and 12 Years a Slave (2013) won Academy Awards for the Best Picture, while The Tree of Life, The Big Short and Money Ball were also nominated.
Brad Pitt – Affairs
Before he dated Gwyneth Paltrow in 1994, Brad Pitt was romantically involved with Robin Givens, Juliette Lewis and Jill Schoelen.  The relationship with Paltrow lasted for five years till 1997.
Pitt and Jennifer Aniston fell in love with each other  in 1998 and married in 2000, in Malibu. The two were a contrast as a solid pair in Hollywood, which was known for instant breakups. However, the pair divorced in 2005, citing the reason as 'irreconcilable differences'. However though the divorce was bitter, over a period of time, they continued being friends.
Pitt apparently had cheated on Jennifer Aniston with Angelina Jolie, while the latter and the actor was working on the sets of the movie 'Mr & Mrs. Smith'. Jolie and Pitt denied the accusations though they admitted that they were smitten by each other. Instantly after the divorce with Aniston in April 2005, Pitt was seen openly dating Angelina Jolie.
The media loved the Pitt and Jolie romance, and called them ''Brangelina', On January 11, 2006, Jolie announced that she was pregnant with Pitt's child. In the year 2012, they were engaged before getting married in their private estate at Chateau Miraval (France).
Brad Pitt – Angelina Jolie divorce reason
On September 19, 2016, Jolie filed for divorce stating irreconcilable differences. Her legal representative released a statement, "This decision was made for the health of the family. She will not be commenting, and asks that the family be given its privacy at this time."  Pitt released a statement, "I am very saddened by this, but what matters most now is the well-being of our kids, I kindly ask the press to give them the space they deserve during this challenging time."
The official date for separation was September 15, 2016, According to the terms of divorce,  Jolie wanted complete physical custody of children. The reason for divorce has not been attributed to any third party,  but over Pitt's affinity to substance abuse, alcoholism and outburst of anger, which she thought was a negative influence on children.
Sponsored link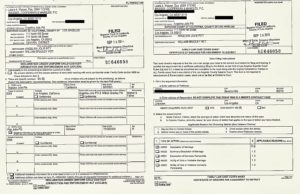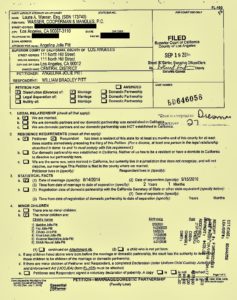 What is the alimony amount that Brad Pitt gives to Angelina Jolie?
Jolie has not asked for spousal support and has maintained that she would simply like to have custody of children. So the question of alimony does not arise. However,  there is no indication if the couple drew a prenup agreement, so it is possible that post their marriage, the properties that they jointly have their titles on, would be divided according to terms of agreement.
Brad Pitt – Children
The couple have 6 children,  Maddox, Zahara and Pax are adopted children, while Shiloh (2006) and twins Knox Leon and Vivienne Marcheline (2008) are biological ones.  Shiloh's first pictures were sold off for high amounts, the proceeds of which were donated to charities in Africa. The first pictures of Vivienne and Knox were sold off for $14 million, making them the most expensive celebrity pictures, even. The proceeds were donated to Jolie- Pitt Foundation.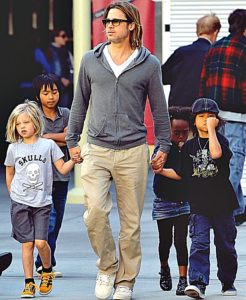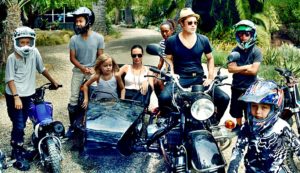 Brad Pitt – Net Worth
The actor-producer's net worth is $250 million. As 'Brangelina' the combined net worth is $400 million.
Brad Pitt – House
Before he was married to Jennifer Aniston, Brad Pitt bought a 5300 square feet home in Los Feliz neighborhood for a mere $1.7 million. He also owned a huge property in Malibu, which he sold to Ellen DeGeneres.  He also bought a huge mansion along with Jennifer Aniston in the upscale neighborhood of Beverly Hills, which went to Aniston, post divorce.
Among several properties, Pitt  jointly owns with Jolie, they include a New Orleans house for $6.5 million. This property, a piece of history; has 5 bedrooms, 3.5 bathrooms and a guest house.
In 2007, the couple bought a home near Waldorf Astroia Towers in New York City.  They also own a $5 million ranch in Santa Barbara, California. The house which sprawls across 11 acres, is used as a vacation house.
The most enviable piece of property that Angelina Jolie and Brad Pitt jointly own is Chateau Miraval, a beautiful, sprawling villa in Correns, France. Lying across 1200 acre area, the property houses 35 rooms in the main building, with many other homes given on rent. The property lies on an ancient Roman road, and is known for its opulent olive stretch, pine forests, tastefully decorated vineyards and a private lake. The house was purchased for $40 million in 2012.
Sponsored link