Bill Gates is an iconic American business entrepreneur, investor, inventor, computer programmer, and a philanthropist. The business magnate personality is the person behind the giant software company Microsoft. He co-founded the company together with Paul Allen. Microsoft is the world's largest computer software company. Gates has been the chairman, chief software architect, CEO, and largest shareholder until sometimes in May 2014.
Gates has authored various books. He has featured in the list of world's richest individuals in Forbes magazine since 1987 for several years. He stepped down from the position of CEO of Microsoft in 2000 but remained the chairman. He left full time work at the company and started working full time for Bill & Melinda Gates Foundation. He later on in 2014 relinquished the role of chairman of Microsoft and took a new position of technology advisor but works closely with the newly appointed CEO of Microsoft, Satya Nadella.
Early life
Bill Gates was born October 28, 1955 in Seattle, Washington and is the son of Mary Maxwell Gates and William H. Gates. Sr. His mother was a member of board of directors for United Way and First Interstate BancSystem and his father was a renowned lawyer.
Sponsored link
In the beginning, the parents of Bill Gates had a law career for their son, but this was never to be. When Gates was 13, he enrolled in a private school, the Lakeside School. He took an interest in computer programming often being excused from taking math classes so that he could pursue his interest.
The first computer program he wrote when he was in school. He graduated in 1973 from Lakeside School where he had been a National Merit Scholar. In his SAT exam, he scored 1950 out of 1600 points, and went on to join Harvard College in same year, autumn. He met Steve Ballmer at Harvard who later succeeded Gates as the Microsoft's CEO. He spend a lot of time in Harvard using the school's computers and didn't have a define study plan.
Gates did programming including the devising of algorithm for pancake sorting, which remained one of the fastest version for close to over thirty years. And, even its successor is just one percent faster than the version created by Gates.

Bill Gates – Childhood Pictures with Parents
Career rise
Bill Gates career vision started when he was in college. He had developed several programs when in Lakeside School and Harvard. He was a close associate of Paul Allen whom they used to do programming together in school. When he was at Harvard, he maintained contact with Paul Allen and joined Honeywell in summer of 1974, and in 1975 it saw the release of the program MITS Altair 8800 that was based on the Intel 8080 CPU. This is what inspired Gates and Allen to think of starting their own software company.
Gates dropped out of college in Harvard and his parents supported him because they saw his interest in starting a company. Gates got in touch with Micro Instrumentation and Telemetry Systems (MITS) after reading an issue of Popular Electronics released in 1975.
MITS were the creators of the then new microcomputer and Gates wanted to tell them he was working on a BASIC interpreter for that platform. When Gates and Allen met MITS president Ed Roberts for a demo, it resulted in a deal with the company to distribute interpreter as Altair BASIC. During this time, Allen was hired into MITS while Gates left Harvard to work along with Allen on the MITS project in Albuquerque in November 1975.
Gates and Allen had a partnership with MITS and named it as Micro-Soft, and the office was located in Albuquerque. The partnership was then registered as a trade name on November 26, 1976 but this time without the hyphen thereby being called Microsoft. It was registered with Office of the Secretary of the State of New Mexico and from this time, Gates never returned to continue with his studies in Harvard— he dropped out.
In 1976, Microsoft separated and became independent of MITS and continued developing programming language software designed for various systems. Its during this time when Gates decided to move the company from Albuquerque and set up new offices in its present location Bellevue, Washington in 1979.
In 1980, IBM approached Microsoft and after successive consultations, Gates proposed to IBM that they use 86-DOS (QDOS) made by Tip Paterson of Seattle Computer Products (SCP). Gates later on through Microsoft, acquired 86-DOS.
Personal life and Philanthropy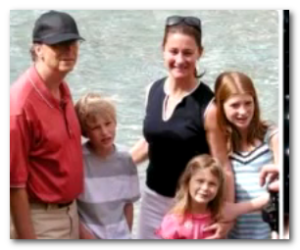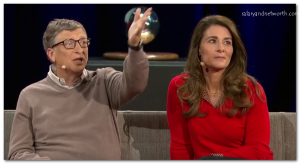 Gates married Melinda French in 1994 and have three children— two daughters and a son. Gates' family resides in a earth-sheltered house located in the side of a hill that overlooks Lake Washington in Medina. Gates is much associated with Giving Pledge campaign that encourages wealthy Americans to donate more of their wealth to charitable causes. The Bill and Melinda Gates foundation has been working relentlessly for causes like Malaria eradication and HIV/AIDS cure. They are also involved in 'recycling toilet water' and creating potable drinking water as a way to solve global water shortage problem.  Through a sewage sludge treatment in a processor called 'Omni Processor', Mr. Gates successfully proved that pure, drinking water can be recycled and produced from human feces in 1994.
Bill Gates – House, cars, art collectibles, yacht, and jet

The Gateses' home is built in a 66,000 sq ft estate featuring a 60 ft swimming pool and underwater music system. It also has a 2,500 sq ft gym and a dining room occupying 1,000 sq ft of space.
Gates is regarded as a art collector. He has purchased many art collections including an oil painting named Lost on the Grand Banks by Winslow Homer, which he purchased at $36 million. He also purchased another art collection Polo Crowd by George Bellows at $28 million.
Gates owns a private jet Bombardier BD-700. The BD 700 Global Express competes against high-end aircrafts like the Boeing 737 BBJ, Gulfstream V, and Airbus A319CJ. The jet is designed to fly at high speeds for long distances like New York/ Tokyo and Sydney/Los Angeles. It can reach speeds of 935km/h and is priced at $45 million. Gates uses his jets mostly for work causes particularly involving Bill and Melissa Gates Foundation.
Sponsored link
While Gates does not own a superyacht, he has a string of large yachts, which are named the yacht of Bill Gates.
Mr. Gates owns Grand Bogue Caye, which is the largest island in Republic of Belize. The fascinating wonder of nature sits on a 314 acres of land and consists of large beautiful beaches, coral flats, forests, and assortment of marine life including dolphins, tunicates, and glistening starfish.
Gates is a self-professed auto speed lover. He owns a series of modern and antique cars including 1988 Porsche 959 Coupe that was at one time billed as the world's fastest street–legal production car. He also owns a customized Porsche 911 Carrera, which is regarded as one of the speediest cars in the world. He retains his antique car, the Porsche 930, which he purchased at those old days when he was at Microsoft. Majority of these cars are designed with luxurious deluxe interiors for enhanced comfort and style.
Bill Gates – House Pictures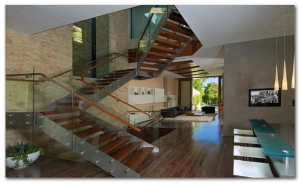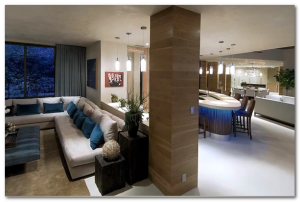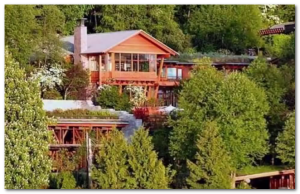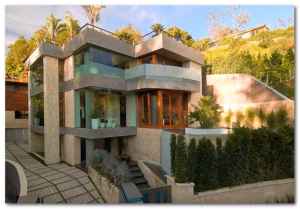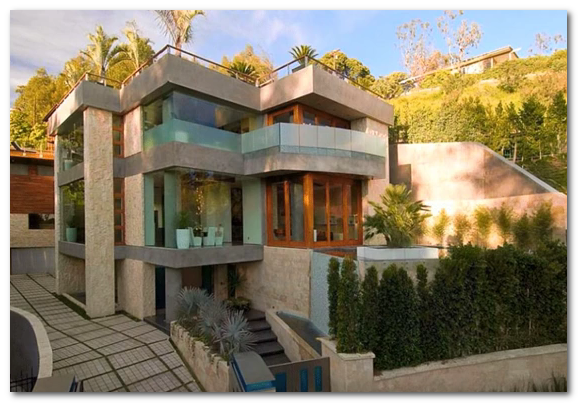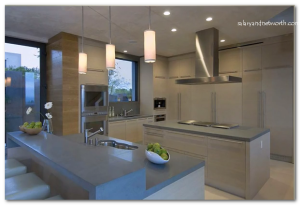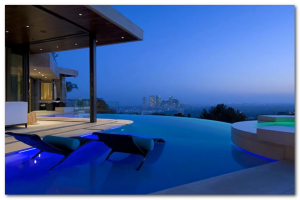 Bill Gates – Car Collection (Pictures)
Bill Gates – Island ( Grand Bogue Caye- Republic of Belize)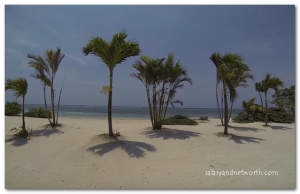 Yacht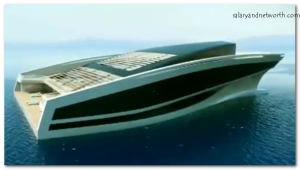 Bill Gates – Jet Plane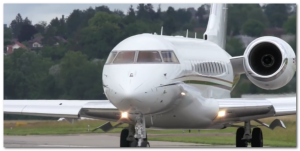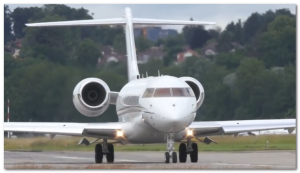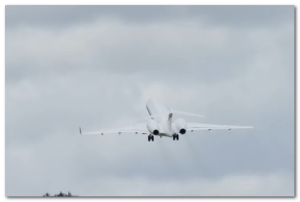 Bill Gates- Net Worth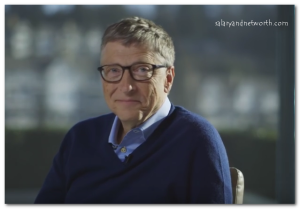 According to Forbes, Gates has an estimated net worth of $76.8 billion as of September 2015, making him the richest person in the world. As of Jan 2016, Bill Gates' net worth is an estimated $87.14 billion as per Wealth X. He is also the most philanthropic person on Earth with lifetime giveaways that exceed $27 billion.
Sponsored link