Arnab Goswami is a leading Indian journalist, who works as the news anchor and editor-in-chief of Times Now and ET Now. The program 'News Hour' a live-debate, anchored by him at 9PM enjoys a loyal fan-base. The program is known for its no-holds barred approach towards issues and controversies. In the show, instead of adopting a neutral stand; he likes to exercise a non-compromising stand. He believes that journalism should be a force of change and not a submissive element in the scheme of things.
Arnab was born on October 9, 1973 in Guwahati, Assam. He has politics in his genes.   His paternal grandfather was a Congress leader and a freedom fighter. His maternal grandfather was a Communist leader.   His father Colonel (Retd.) Manorajan served the army and later joined politics as the BJP Candidate in Assam. His mother's name is Suprabha.
Arnab studied in several schools across the country and went to Hindu College in Delhi University, where he got a Bachelor's Degree in Sociology. He then completed his Master's in Social Anthropology in St. Antony's College, Oxford University.
Sponsored link
Career
Arnab Goswami worked as a journalist, in The Telegraph for less than a year. He got his first job as a news anchor for Television in the year 1995, when he worked for NDTV 24X7. He also worked simultaneously as a news reporter for 'News Tonight', a program on DD Metro. At NDTV, he was influential in changing the content to a 24-hour mode, in 1998. His work was good enough to get him promoted to the job of a news editor, where he would curate, organize an edit content, apart from working an anchor. He used to host a program called News Hour on NDTV.
Post 2006, Arnab Goswami became the news anchor and editor-in-chief of Times Now. The show which began airing at 9 PM has now become a cult watch and has defeated almost every other news program on Indian Television. Apart from interviewing people like Rahul Gandhi, Narendra Modi and Parvez Musharraf, the show's real prowess lies in its extensive and non-compromising debate. Arnab comes across a person who does not like to toe the line, he likes to come straight to the point and believes in airing his views fearlessly.
Arnab Goswami also hosts 'Frankly Speaking with Arnab' where he has interviewed world renowned personalities like Hilary Clinton, Benazir Bhutton and Gordon Brown. He has written a book called 'Combating Terrorism – The Legal Challenge'.
The Popularity of News Hour and why Arnab Goswami sways away from a neutral stand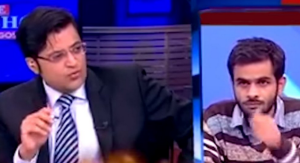 Sponsored link
Arnab Goswami has been credited with heralding a wave of disruptive journalism. Before him, most news anchors would adopt a neutral stand. Arnab excels in asking uncomfortable questions, because he believes that the media is answerable to the nation. He says that his focus shifted from being diplomatic to being direct after 26/11 attacks. He was also saddened at the way in which journalists from leading TV channels were acting as PR Machinery to please the 'babus' and channel bosses. Arnab works with his core-team and feels that he has to do justice to the way his team tirelessly collects and disseminates information. He says that he endorses a brand of journalism that is a force of change, rather than a symbol of submissive behavior. Within one year of the start of Times Now in 2006, he made the TV channel, the most watched news channel in India.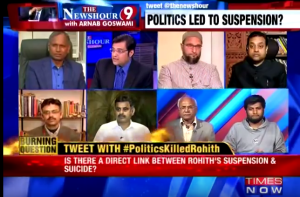 Along with popularity, Arnab has also invited a huge share of criticism from people who feel that he interrupts the speakers. Nevertheless, his catchline 'the nation wants to know' has become a mainstay of many parodies, Arnab Goswami memes and fan pages.
In spite of his busy schedule, Goswami is known to manage time very well and ensures that he works out every day.
Arnab Goswami – Awards
Arnab Goswami has been awarded with many awards including the 2003 – Asian Television Award for Best Presenter, the Ramanath Goenka Award for Excellence in Journalism in 2010 and IMPACT Person of the Year Award, 2015
Resignation from Times Now
It was announced on November 2016, that Goswami has resigned as the Editor-in-Chief of Times Now.  In an hour-long farewell speech in the Times Now newsroom, he stated the 'game has just begun'. It is being stated that Goswami may join Fox News, while other sources state that he may float a news channel with Rupert Murdoch and Rajeev Chandrasekhar.
Wife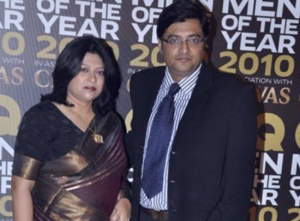 The 5 feet 11 inch tall Arnab is married Pipi Goswami. They fell in love when they were studying together at  The Hindu College.  He married her after he returned to India, following his studies in  the UK.  Pipi is Bengali while  Arnab speaks Assamese (though he knows Bengali too).
Arnab Goswami – Salary and Net Worth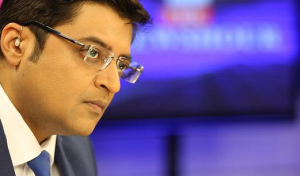 His salary is INR 1 crore per month plus perks and stock options. His annual net worth is $2 million.
Sponsored link