Amitabh Bachchan is an Indian film and TV actor, former politician, singer, businessman, TV host, and philanthropist. With a career spanning more than 4 decades and nearly 200 films, he is regarded as one of the most influential, popular, and greatest actors in the history of the Indian film industry. His movies of the early 70s and 80s gave rise to him being dubbed as the 'angry young man.'
As per Forbes, Bachchan's net worth as of 2015 is around $400 million, thereby making him one of the wealthiest actors in the world. His total annual remuneration from varied sources come up to nearly INR 100 crores. Bachchan charges INR 6 to 10 crores per movie, about INR 7 crores for hosting the TV show 'Kaun Banega Crorepati,' and about INR 5 crores for each commercial endorsement. People With Money has put his combined earnings for 2015 to be about $46 million, which placed him at the number 1 spot in the list of the top 10 highest paid actors.
Bachchan has won numerous acting awards, including 3 National Film Awards, 14 Filmfare Awards, and many international film festival awards. Also with 39 nominations for Filmfare awards he is the most nominated one. He was the first living Asian to have the honor of his wax statue installed at Madame Tussaud's in 2000.
Sponsored link
For his work in cinema and the arts, Bachchan was honored with by the Government of India with the Padma Vibhushan in 2015, the Padma Bhushan in 2001, and the Padma Shri in 1984. In 2007, he was awarded the "Knight of the Legion of Honor" the highest civilian honor given by the Government of France.
Early Life, Education, and Background
Amitabh Harivansh Bachchan was born on Oct 11 1942 in Allahabad, UP, India, to Teji Bachchan and Hindi poet Harivansh Rai Bachchan. Amitabh was initially named 'Inquilab' but his father later changed the name to his current one after a suggestion by Sumitranandan Pant, a fellow poet. He has a younger brother named Ajitabh.
Bachchan attended the Sherwood College in Nainital and then Delhi University's Kirori Mal College.
Career and Success Story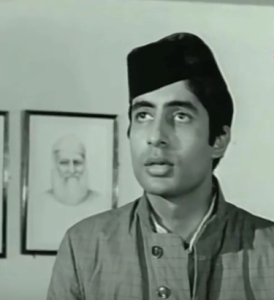 Film career: Bachchan's debut movie was in the movie Bhuvan Shome as a voice narrator. His first role as an actor was in the film Saat Hindustani where he played one of the 7 protagonists. He then had supporting roles in varied movies like Anand, Guddi, Parwaana, Reshma Aur Shera, Bombay to Goa, and Bawarchi.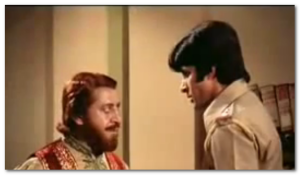 Amitabh's first big break came in 1973 when he was cast as the lead actor by Prakash Mehra in the movie Zanjeer. It was a big hot and firmly established him as the 'young angry man' of Indian cinema. He then continued playing guest, lead and supporting roles in movies such as Abhimaan, Namak Haram, Dost, Majboor, Kunwara Baap, Chupke Chupke, Roti Kapda Aur Makaan, and Mili.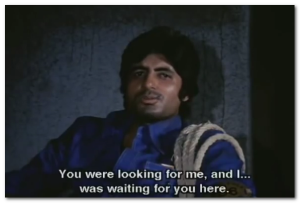 The turning point in Amitabh's career came in 1975 with the release of 2 mega-blockbuster movies 'Deewar' and 'Sholay.' These movies elevated him to the status of a superstar. Both these movies have regularly featured in the list of top 25 Indian films that one must see in his/her lifetime. The late 70s continued the trend of hit movies starring Amitabh, such as Amar Akbar Anthony, Kabhie Kabhie, Trishul, The Great Gambler, Khoon Pasina, Don, Mr. Natwarlal, Parvarish, Kasme Vaade, Muqaddar Ka Sikandar, and Kaala Patthar. In the 80s Bachchan, maintained his superstardom and his status quo as the numero uno in Bollywood with box office successes like Dostana, Shaan, Silsila, Ram Balram, Lawaaris, Shakti, Satte Pe Satta, Naseeb, and Desh Premee.
In 1983 the movie 'Coolie' was released to packed houses. It is said that the movie went on to become a huge hit due to the fact that Bachchan was almost killed while performing a stunt in the film. He suffered from abdominal trauma, splenic rupture, and extensive loss of blood. Treatment and recuperation took many months during which his state was critical at times.
After a break of a few years during which Bachchan dabbled in politics, he returned to the big screen with a lead role in the movie 'Shahenshah.' His later movies such as Jaadugar, Insaniyat, Main Azaad Hoon, Agneepath, Toofan, Khuda Gawah did not do well. This prompted another sabbatical from movies, during which he started his own company Amitabh Bachchan Corporation, Ltd. After a gap of five years Amitabh played the lead role in the movie Mrityudaata. It did not do well. Neither did his other following movies like Lal Baadshah, Sooryavansham, and Hindustan Ki Kasam, barring Bade Miyan Chote Miyan which was an average success. His career finally revived in 2000 with the movie 'Mohabbatein' where he played the role of a school principal. Some of his memorable performances since 2000 include movies like Baghban, Kabhi Khushi Kabhie Gham, Khakee, Bunty Aur Babli, Cheeni Kum, Paa, Sarkar, Shootout at Lokhandwala, and the critically acclaimed 'Black' for which Bachchan won a host of awards. Amitabh even acted in an English language movie 'The Last Lear,' and a Malayalam movie 'Kandahar'. His Hollywood acting debut came in 2013 with the movie 'The Great Gatsby' which had Leonardo DiCaprio in the lead role.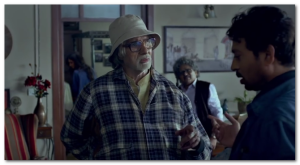 Sponsored link
 Amitabh Bachchan gave a solid hit in the form of 'Piku' in 2015 in which he won  a legion of fans for his fantastic portrayal of an eccentric, lovable father.
Career in Politics: Amitabh Bachchan put his movie career on hold in 1984 and started his stint in politics to support his family friend, former Prime Minister of India Rajiv Gandhi. He became a Member of Parliament after winning the Lok Sabha seat from Allahabad by the biggest victory margin against former Chief Minister of UP state H. N. Bahuguna.
Bachchan's career in politics was however very short. He did not like the muck of politics and resigned after 3 years. His name was then dragged into the 'Bofors deal scandal'; the court found him not guilty of any misdeeds and absolved him of any crime/corruption.
After ABCL faced financial problems and was declared a sick company, Amar Singh of the Samajwadi Party helped him. Hence he became a supporter of the party. Jaya Bachchan, his wife, subsequently joined the party and became a member of the Rajya Sabha. Bachchan is not actively involved in the Samajwadi Party, but helps the party via varied activities including political and election campaigns and advertisements.
Career in Television: Bachchan started hosting the "Who Wants to Be a Millionaire" based TV show "Kaun Banega Crorepati" in the year 2000. It was a big hit in India. He hosted the second season in 2005, the 4th season in 2010, the 5th season in 2011, and the 6th season in 2012.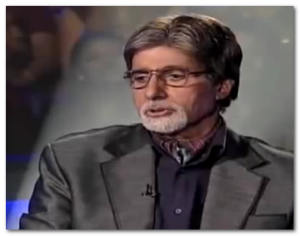 Amitabh hosted the reality TV show "Bigg Boss" in 2009. In 2014, he played the protagonist's role in the TV drama 'Yudh' which aired on Sony Entertainment TV.
ABCL: Amitabh Bachchan Corporation, Ltd was founded in 1995. The company was involved in film distribution and production, video discs and audio cassettes, marketing and production of television software, and event and celebrity management. The venture was not successful and soon raked up huge losses. It was declared a failed company within 2 years and Bachchan faced several legal problems and a huge debt. He eventually paid all his debt after some years. The company was re-launched in 2001 as AB Corp. Since then it has produced movies like Paa and Shamitabh.
Personal Life, House, Cars and Trivia

Amitabh Bachchan married actress Jaya Bhaduri in 1973. They have two children actor Abhishek Bachchan and Shweta Nanda. Abhishek is married to actress Aishwarya Rai Bachchan, while Shweta is married to businessman Nikhil Nanda. Aaradhya is the daughter of Aishwarya and Abhishek.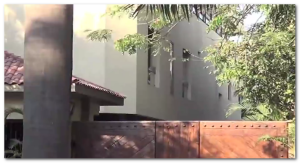 Amitabh lives with his family at the posh bungalow 'Jalsa' in Juhu, Mumbai. It is spread across 10,125 sq. ft. He has recently purchased another plot of land adjoining Jalsa. He previously used to live in another opulent bungalow 'Prateeksha' which is also in Juhu. He also owns 2 more houses in the Juhu area.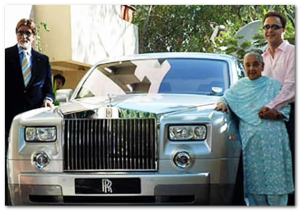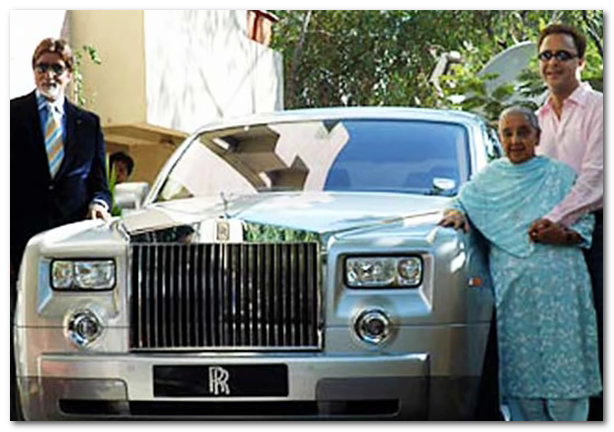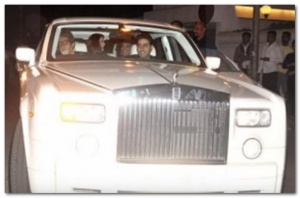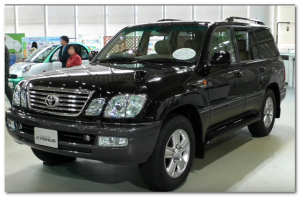 Bachchan is very fond of cars. His expensive, vast, and exclusive collection of beautiful machines include a 2014 Rolls Royce, Lamborghini Murcielago, a Bentley Continental GT, a Silver BMW X5, a Silver Porshe Cayman S, a Mercedes Benz S600, a black Jeep Cherokee, and many more!
Bachchan's total dominance of the Hindi film Industry in the 70s and 80s made François Truffaut, the French director, to tag him with the moniker 'one-man industry.'
Bachchan's deep baritone voice has landed him many jobs as a narrator. He has been the narrator for movies like 'Lagaan,' Satyajit Ray's Shatranj Ke Khilari, and Luc Jacquet's 'March of the Penguins,' an Academy award winning French documentary.
Bachchan has regularly donated for varied social causes. The 'Harivansh Rai Bachchan Memorial Trust' was founded by him in 2013 in the memory of his father. He has been a UNICEF goodwill ambassador, promoted the 'Save Our Tigers' campaign, and supported PETA at different times.
Sponsored link