Amancio Ortega is a Spanish businessman.He is the richest billionaire of the retail business and the second richest person in the world. His net worth speaks for his hard work and effort that he has put to climb the ladder of success.
He is the chairman of Inditex Fashion. This fashion group is best known for their fashion brand Zara clothing and accessory. It was in the year of Oct 2015, that he had been ranked the richest man of the world by Forbes magazine, beating Bill Gates in the process. However, the rank lasted for only four hours.
Early Life and Career
Ortega is born on 28th March 1936. He is a Spanish native. His father was a railway worker. He moved in Iberian textile capital with his family. It is hard to believe that the richest billionaire of retail industry had to leave school at the age of 14. Due to financial pressure at home, he started working as a delivery for a shirt maker. Eventually, he became the assistant of a tailor.
Sponsored link
In the year of 1960, Ortega decided to give his creative self a try. By this time he was working in a local clothing shop as the store manager. From his home Ortega began designing housecoat, lingerie and dressing gowns.
Later in the year of 1963, Ortega started his first factory. After running this company for two years, he opened Confecciones Goa. It is a textile manufacturing and marketing company.
However, the big break for Ortega came in the year of 1975. It is the year when he founded Zara. This retail store distributed and distributed fashion items in a reasonable price. His ex-wife Rosalia Mera was the founding partner of the brand.
He founded Inditex in the year of 1985. This company served as a support company for Zara. This company eventually grew with Zara. There is another reason which propel the growth of Inditex. It is Ortega's decision to launch other retail businesses. This chain of retail group grew up to be the largest retail group of the world. In the year 2013, the net worth of this retails group was $19 billion.
Despite the huge success of the group, Ortega decided to step down as the chairman of the group, in the year of 2011. However, even after stepping down he kept serving the company as the founder, board member and the shareholder.
Ortega also founded Amancio Ortega Foundation. This foundation is a non-profit organization. It promotes educational and social culture.
Ortega, despite his high profile success and huge income, is a humble man. He believes in keeping a low profile. In fact, before 1999, no photograph of him had ever been published anywhere.
Despite the huge wealth he has earned through his retail chain business, he lives a simple life. Which is more surprising is the fact that he chooses to eat lunch with his employees.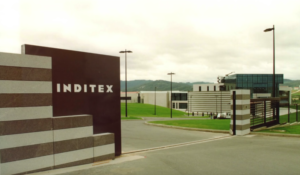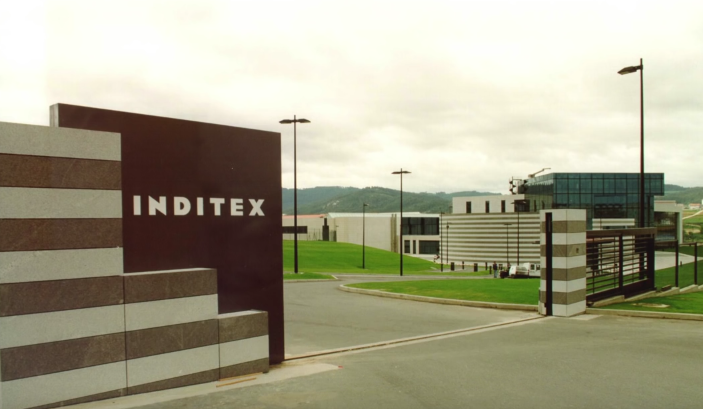 Amancio Ortega – Reclusive Personified
In the year 2000, Ortega made a rare public appearance. This event made it to the headline. In his entire life, he has chosen to grant three interviews. His private life has evoked public interest in such enormity that many books have been written on Ortega. One of the most famous among them is Amacio Ortega – Zero to Zara.
40 years have passed since the day Zara was born. The 80 year old founder has been announced the second richest man of the world. Yet, nothing seemed to have changed the man who rose from the grains and soared high like a falcon.
What makes people awe stricken is the fact that Ortega being a fashion merchant himself, has no interest in fashion. He hardly cares what he wears to work. Also, he shows no loyalty towards the brand which set him in the list of the richest men.  Ortega is known to be quite humble by nature and is known to be quite approachable to his employees.
Amancio Ortega – Wife and Children
He lives with his second wife Flora Perez Marcote. His ex-wife Rosalia Mera died in the year of 2013. At the time of her death, she was ranked as the richest woman of Spain.   Flora, who was an employee of Inditex Fashion still works with him.  From his first wife, Ortega has a son and daughter. While the son Marcos suffers from cerebral palsy, Rosalia's wealth has been transferred to Sandra Ortega Mera, who is now the richest woman in Spain with a net worth of $6.2 billion. From his second wife, he has a daughter called Marta.
Sponsored link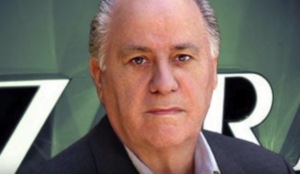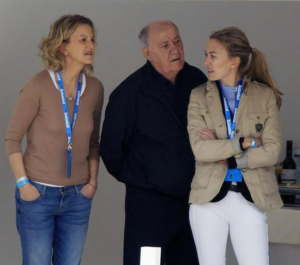 Success Secret of Zara
The secret of Zara's success lies in the vision of Ortega. Zara gives people what they look for. Another important fact which makes Zara the beloved brand is – they deliver as quickly as possible. These two together made the company a huge success.
Zara's stores managers are trained to monitor what fashion items are selling. Also, they monitor what people are wearing. Based on this the delivery to Zara's stores is made. The managers have the liberty to hang whatever they see fit.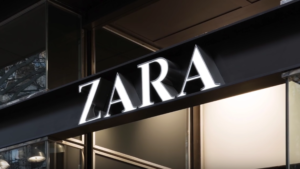 Interests
Ortega's interest expands from fashion to art. It is said that he owns a huge collection of art which includes various paintings of Spanish painters.
Amancio Ortega – Yacht
He owns a yacht valued at $7.5 million. Known as Valoria, this 23 year old beauty is 6.39 meters wide and 31.5 meters long.  The name for the yacht owes its origin to his mother's birthplace, Valladolid.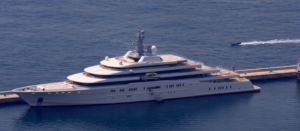 Amancio Ortega – House
Quite like him, his homes also have a reclusive bearing.  One of his houses is in Zalaeta, at Ozran Beach. This is where he lives with his family.  There is another home at A Coruna, this is the place where he would live with his first wife and children.  This home looks more like a middle-class dwelling.
 Jet
He owns the   Global Express BD700 which flies at a maximum speed of 950 kilometers per hour.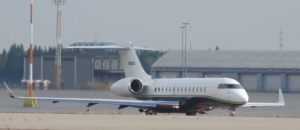 Amancio Ortega – Net Worth
Ortega's net worth is $67.2 billion in 2016, according to Forbes.
Sponsored link